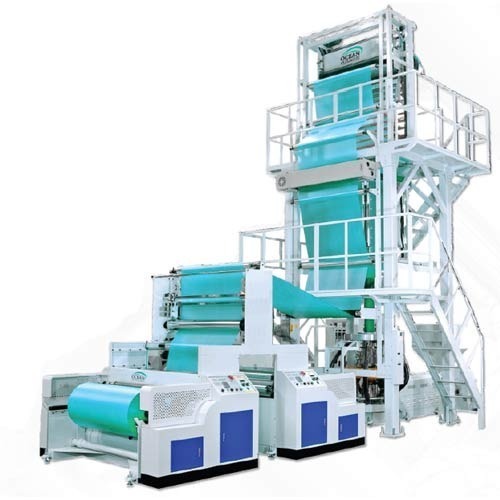 coextrusion blown film machine
Price And Quantity
Product Specifications
Packaging Line

LD,LDPE,HM,HDPE
Product Description
Co-extrusion blown film machine
Advantages OF Co-extrusion blown film machine
Blown film generally has a better balance of mechanical properties than cast or extruded films because it is drawn in both the transverse and machine directions. Mechanical properties of the thin film include tensile and flexural strength, and toughness. The nearly uniform properties in both directions allow for maximum toughness in the film .
Co-extrusion blown film machine
Blown film extrusion can be used to make one large film, two smaller ones, or tubes that can be made into bags. Also, one die can make many different widths and sizes without significant trimming. This high level of flexibility in the process leads to less scrap material and higher productivity. Blown films also require lower melting temperatures than cast extrusion. Measured at the die opening, the temperature of cast film is about 220°C., where as the temperature of blown film is about 135°C. Furthermore, the cost of the equipment is approximately 50% of a line.
Disadvantages of
Co-extrusion blown film machine
Blown film has a less effective cooling process than flat film. Flat film cooling is done by means of chill rolls or water., which have significantly higher specific heat capacities than the air that is used in the blown film cooling process. The higher specific heat capacity allows the substance to absorb more heat with less change in the substance temperature. Compared to cast film, blown film has a more complicated and less accurate method to control film thickness; cast film has a thickness variation of 1 to 2% versus the 3 to 4% for blown film.
Co-extrusion blown film machine
The resins used for casting typically have a lower melt flow index, which is the amount of polymer that can be forced through a standard die in 10 minutes according to a standard procedure. The melt flow index for cast film is about 5.0 g/10 min where as for blown film it is about 1.0 g/10 min. Consequently, the production rates for cast film are higher: cast film lines can reach production rates of up to 300m/min where as blown film lines are usually less than half this value. And finally, cast film has better optical properties, including transparency , haze, and gloss.
Co-extrusion blown film machine
Contact Us
Office No: 11-15, Wing A, First Floor, Barcelona Complex, Nr. Odhav Circle, S P Ring Road, Kathwada, Ahmedabad, Gujarat, 382430, India
Phone :+918068093222